Lease Your Land for Hunting
August 18, 2019 Duck, Mule Deer, Turkey, Whitetail Deer, Colorado, Georgia, Illinois, Iowa, Kansas, Maryland, Michigan, Minnesota, Missouri, New York, Oklahoma, Pennsylvania, Texas, Washington, Wisconsin, Bow, Muzzleloader, Rifles, Shotguns
Are you ready to lease your land for hunting? Post your hunting lease for free on Hunting Locator.
Deer hunting and, in fact, deer hunters might just be our two most important commodities when it comes to recreational hunting across North America. With that in mind, not every deer hunter has access to hunting land when the hunting season rolls around and it stands to reason that there are some with more than they need. In fact, many hunters—grouse, duck, goose, pheasant, and turkey hunters alike—have to knock on a lot of doors and make more than their fair share of phone calls just to find a place to get out of the truck and load up.
As a landowner, you can change the game by posting your vacant or unused land to attract an individual or group of hunters that are only looking for a place to call their own during the hunting season and make yourself some extra money in the process. Reaching out to Hunting Locator is only an email away, but posting your hunting land onsite is even easier. For those that are considering this prospect, read on to find out just exactly how easy and beneficial it can be for you and those in the hunting community. Make it your business to check out the possibilities.
Why Post On Hunting Locator?
Hunting lease land can change the game for hunters, and maybe more importantly, for land owners as well. Leasing your own property allows you to retain ownership, keep it in your name, and even help you to pay property taxes on it, especially if it is not working farmland.
Hunting lease and hunting lease agreements are one way to ease the pressure of hunting on public lands and put your private real estate to work for you. The additional income created by leasing your own land can help you to do various upgrades such as food plots and habitat improvements, which will help you to increase wildlife populations in your area and help keep more animals away from areas that farmers need to keep their crops safe.
For farmers with multiple hundreds of acres of land, much of it may not be suitable for farming. What if you were to lease it to a group of responsible hunters? We all have our own opinions, and this may not be the way to strike it rich, but it's more than you're getting from it now. Maybe at some point you've made some extra money from the local timber company, but now that they're done, the new growth created might just be what a group of deer hunters is looking for.
As sportsmen, hunters are especially respectful when it comes to the land, and for a landowner, knowing exactly who it is that is using your property can be very helpful. The extra eyes alone will deter trespassers and even ATVs from entering your land illegally giving a landowner peace of mind during the fall and winter months. When these same hunters have official access to the land they tend to mind it as their own- watching over their tree stands, posting your property as private, and with their constant presence, make it even more risky for trespassers to enter.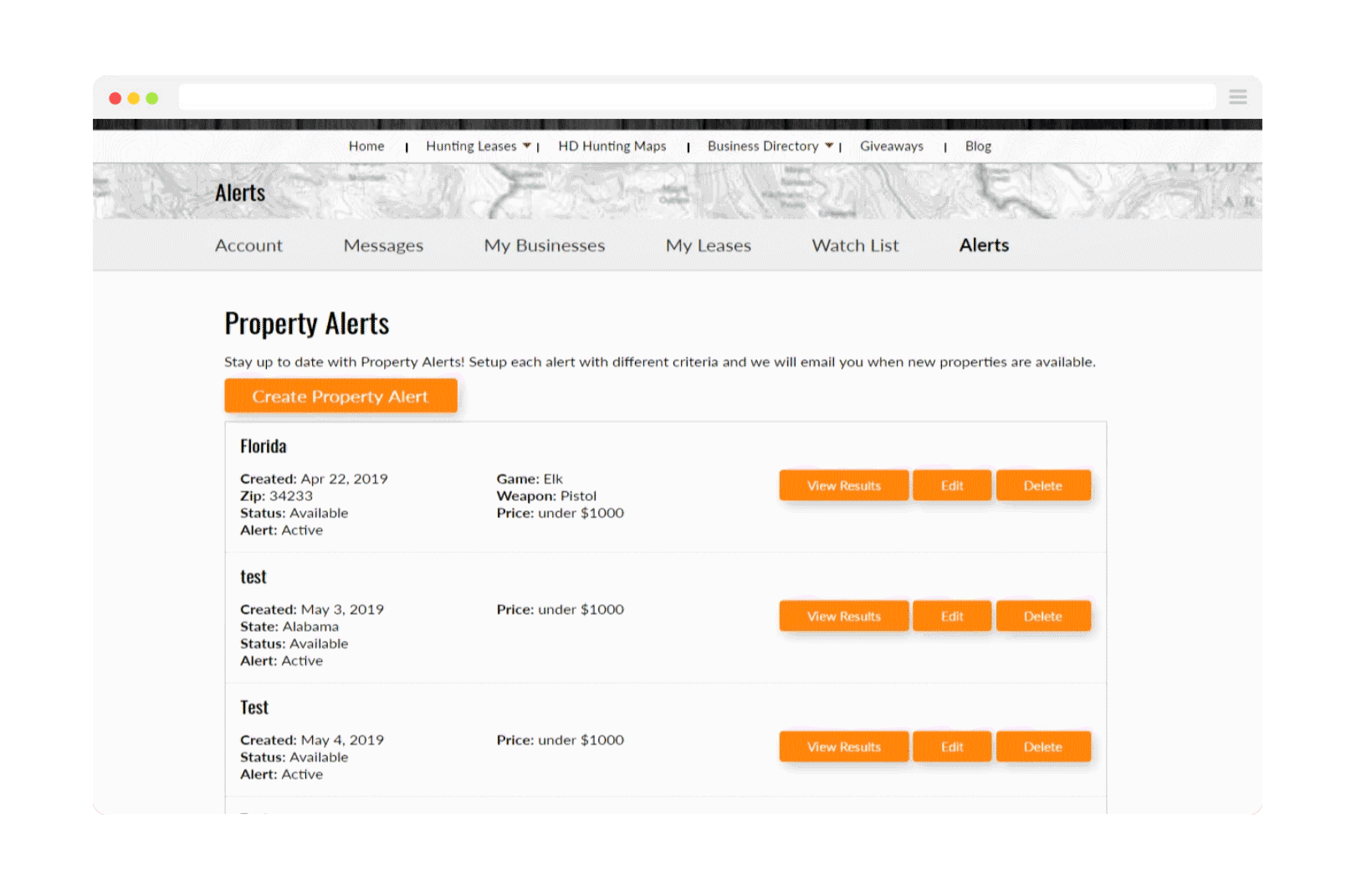 Common Questions
Now you need to answer some pertinent questions such as what area of the US are you located, and what is the main game found there? As previously stated, deer hunters are the number one sportsman with the desire to get into the woods and fields when it comes to October and November.
Do you have farmland, meadows, swamps, and timber available? Or Ponds, sloughs, creeks, or other water features? Waterfowl hunters would like to lease your land as well! Pictures of ponds and deer-holding meadows are one thing, but how about some trail camera pics? Prospective buyers such as hunters looking for lease land want to know that your land has quality game potential. A picture of a nice buck is one thing, but a flock of mallards resting on the pond or flying down the creek is just as good.
And how about parking? Most hunters will have to get to your land via their vehicle and they will have to leave it somewhere while they use the land that they are paying for. Will you allow them to use their own ATV? Or perhaps you have one of your own that they could have access to? (perhaps for a fee) What kind of condition are the trails in? Are they accessible by vehicle, ATV, or only on foot? The more prepared your land is to lease, the more money you can charge for it.
Could they place a trailer on your property or use an existing cabin? They may be coming from a distance and will want to stay for multiple days at a time. What is your feeling on a lease holder cutting shooting lanes or even planting a food plot? If you plan to lease for a season that is one thing, but you may find that a long-term lease would be more of a benefit to you as the landowner. As said, one of the best things to know for a property owner is the knowledge of exactly who is using your land and their respect for it. A paying client is one that cares for the land as if it was their own. The bottom line is that most hunters will pay a bit more for the ability to make their own changes, or have these types of amenities at their disposal.
The Farming Community
For farmers, whose property may already have some of these conveniences available, all the better for both landowner and potential client. Many of these hard-working crop producers would like to earn every cent possible using their hard-earned land, and that's a win-win situation for both hunter and farmer.
For you who make their living off of the land as farmers do, nothing can be quite as aggravating as watching your crops disappear into the hungry mouths of deer and other creatures seemingly getting a free feast at your expense. Allowing hunters onto your land will not only increase the legal take of those animals, but decrease the amount of damage due to their presence.
Having hunters present on farmland will even give rise in the property owner to fix or create new trails which can allow better access for—along with hunters—a timber company. The cutting of trees and clearing of the property can create bedding and alternative browse for deer and lead to increased usage for the farmer and lessen the damage done by hungry deer.
Leasing your farmland is one of the easiest and most beneficial ways to make use of your land while increasing access for hunters, and it can make you some money to boot.
It's Free
With the additional income you will receive comes the potential for additional expenses. The greatest of these may be the increased need for liability insurance. Quality hunting for deer or waterfowl comes with the small price of seeking some simple legal advice from your home state or province. Some areas may not even require it, while others may have different laws pertaining to the public use of private lands. QDMA currently partners with certain outlets to facilitate hunters gaining this access and Hunting Locator is working with them. While other sites may offer this liability insurance, they also take a big chunk of money in commission fees to alleviate that expense where HL does not. The bottom line is that we "put the hunter on the right land which generally leads to better prices for the land owner and hunter," that way landowners can "lease their land with us for free."
The Cost for Prospective Clients
If you ask 10 different landowners, you will get 10 different answers as to what you could or should charge for a lease. If your land is in the heart of Iowa, Kansas, or Texas deer country chances are that you can charge more proportionately compared to say Ohio or New York.
First off, as anyone who knows the Buckeye State or the Empire State will tell you right off is that you can score just as nice of a big buck there as anywhere in the country, but the honest answer is that it's been proven many times over that the former of these deer producing states are more famous for taking large, trophy deer.
But could you charge the same price for a duck or waterfowl hunting lease in Iowa as you could in Louisiana or Maryland? Probably not. The bottom line is that your own good judgment is what you need to use for your price. Some say around 5 to 10 dollars an acre and some say 30-40 dollars per acre of land leased. You'll need to research a few comparable lease listings in your area to decide what your price ultimately will be since you're not the first one to do this. For instance 40-acres of prime deer hunting property in Polk County, WI is under $1000 and over in Keokuk, IA you can lease 280-acres for between $1000-5000.
The possibilities are endless, and so are the listings on Hunting Locator.
Using Hunting Locator
It's completely FREE to post your land lease on Hunting Locator and it comes with the likelihood of putting your offering in front of as many as 50,000 hunters a month. As a landowner you can share private messages between you and qualified individual hunters or groups that will make your experience even better and more profitable. You can save and manage your favorite listings, receive custom email or text alerts when hunters are interested, and get featured on our mailing list to premium hunters.
If you are looking to lease your hunting land for the short-term or for many years, Hunting Locator is unmatched in getting the word out to prospective hunters looking to lease hunting land. Hunting rights from a private landowner are what all good, solid members of the hunting community are looking for, and with a few short steps you can be on your way to obtaining that additional income that you've always been looking for.
Until then you can set your sights on land of your own by simply cruising through our website, to your hearts content, at all the possibilities by clicking every state on the map at our home page, check access to premium land leases, maps and tools. If you're interested, check out our giveaway page to see what might be yours for the taking.